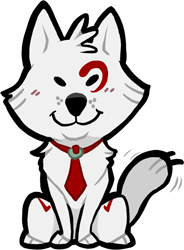 I prefer to draw the following subjects:

Sapphic women (lesbians, bisexual, pansexual, queer, etc.)
Women in general
Snarly werewolves (werewolves in general)
Non-sexual transformation sequences
Dramatic lighting with deep shadows
Buff ladies
Delicious Food
LGBTQIA+ characters
Media fandoms I am currently interested in (check my tumblr)
Unique animal species
My original characters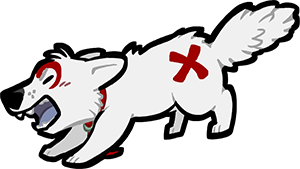 Because of Canadian laws, I will NEVER draw the following:

Any character (including non-human characters) that appears to be under the age of 18 nude or in a sexual situation.
I will not draw the following on personal principle:
Hate art (against any gender, ethnicity, sexual preference, an individual, etc.)
Art portraying self-harm or suicide
Anything involving scatophilia or "water sports"
Non-consensual sexual situations (rape, bestiality, etc.) also including dubcon.
Sexual situations involving ferals (as in, no physical part of them is anthropomorphic/they look like a normal animal)
Any situation I feel is misogynistic or transmisogynistic in nature
If your commission request contains subject matter in the following 2 lists, I highly suggest you seek out another artist who is more aligned with your interests, as you will probably get better results. :)
I prefer not to draw, and WILL charge extra if asked to draw the following:
Extremely detailed mechanical objects, armour or costumes
Characters with complicated designs
Excessive gore
Some fetish material, but in particular:

Hard vore (soft is a-okay) and unbirthing
"Hyper" or unrealistic body proportions, particularly, large breasted women
Foot or paw
Hermaphrodite characters
Plushophilia
Humiliation/degradation

Any other material that I find I am uncomfortable drawing
I prefer not to draw, but will NOT charge extra if asked to draw the following:
Explicit gore (mild gore and candy gore are a-okay)
Body horror
Cisgender heterosexual sexual acts
Political cartoons
Any other material that I find I am uncomfortable drawing



Ordering

Please read my "will and will not draw" list before sending in requests.

You may contact me through various social media or messaging apps for inital discussion, but please make all actual requests for regular commission through my order form, unless otherwise stated.

You will be contacted by email (studioeevachu[at]gmail[dot]com) with any questions or order details.



Copyrights

By commissioning me, you are agreeing that I ("Eevachu"/"Squiggalaimon") as the artist, reserve all rights to the commissioned material, you will not own the copyrights to them, and that these commissions are to be used for personal, non-profit use only. You, as the commissioner, retain all applicable rights to your original characters and concepts. You are NOT purchasing the publication rights to the image; works are not to be reproduced en mass (as in prints, buttons or the like) or used for profit or charity fundraising.

Please contact me for my policies and a price quote if you are interested in the commercial rights to your commission.

If I find you are using my work commercially without my permission, I reserve the right to confiscate my work and the rights to the use of my work (you will be refunded via the same means in which you paid). Commercial uses include logos, anything for a corporate entity (as in not an individual), anything involved with a petsite, website graphics, packaging art, advertisements, etc. Depending on the situation, legal action against you may be taken.

As the artist I retain the rights to exhibit works in personal or promotional venues both online and elsewhere such as on my website (Eevachu.com) and deviantART (and possibly several sites like Fur Affinity, Weasyl, Tumblr, Twitter, Facebook , etc.) unless you expressly state that you do not want it posted. I reserve the right to include and display all work in my personal portfolio without exception. Commissions will be included in my Patreon rewards and my Gumroad packs, unless you expressly state you do not wish them to be included. I also retain the right to reproduce prints of my work to sell (pieces will likely be edited to remove any distinguishing features of an original character) and place images on print on demand sites (Society6 and Redbubble) unless you expressly state you would not like me to reproduce it.

I give my consent for commissioners to post their commissions to their own online Fur Affinity, deviantART, Tumblr, Twitter, Facebook or Weasyl accounts, so long as I am given proper credit and a link back to my website. If you plan on posting your commission publicly elsewhere online you must obtain my permission first, and the publicized piece must be credited back to me. YOU ARE NOT TO CLAIM THAT YOU HAVE DRAWN THE COMMISSION.



Completion & Shipping Time

As I am often doing other projects, my schedule can be varied and unpredictable. The following is a general time frame, and should be a good estimate for your turn-around time, unless I have otherwise noted:


| <1 Week | 1-2 Weeks | 1-4 Weeks | 1-6 Weeks | 2-10+ Weeks |
| --- | --- | --- | --- | --- |
| <$20 | $20-$50 | $50-$100 | $100-$175 | >$175 |

Shipping time with Canada Post is unpredictable, you can find their delivery standards here to calculate your approximate delivery times: https://www.canadapost.ca/tools/pg/manual/PGdeliverystds-e.asp

I am not responsible for any items/money lost in the mail.



Requests & Refunds

I reserve the right to refuse any commission request, for any reason.

I reserve the right to stop work on any commission, for any reason, at any time. The commissioner will be refunded in full in the event of this.

Refunds for in progress commissions may be requested. Depending on the level of completion of the commission, a partial or full refund may be given at the discretion of the artist.

If a commissioner has not responded to emails or direct messages on other platforms in over 365 days, and has no receipts that they emailed or direct messaged me and I did not receive them due to technical issues, the commission is considered forfeit. No refunds or credits will be given. Past the 365 days, the commissioner may request a copy of the last stage of completion of a commission. They may also request the commission to be completed by paying the difference between the current stage and the desired level of completion.



Revisions

All commissions include 1 major revision (full pose or idea) and one minor (character design details, partial poses) at sketch stage, and 1 minor revision at finished stage.

Any additional revisions will incur a 30% charge for each major revision and a 10% charge each minor revision beyond those allocated above. In the case of a dispute over revisions at the sketch stage, the commissioner has the right to refuse to pay, at which point the commission will cancelled and commissioner will be given a partial refund. In the case of a dispute over revisions at the finished stage, no refund will be given.

The above excludes Buck-a-Minutes, which have no revisions except if a major error is made on character details; and Character Design Packs, which have up to 30 revisions.



Payment

My preferred form of payment is PayPal, but the following forms of payment are also accepted: credit cards/Visa debit cards via Square, other online payment sites, cheques, money orders, interact e-transfers, and payments in cash at a convention. Other methods such as Western Union will be considered.

Starting July 2019, all payments (excluding those made in person at conventions) will be invoiced in USD, not CAD. Payment through Canadian dollars will be accepted, but will be calculated in accordance to the current Pay Pal exchange rate if sent through Pay Pal, or current exchange rate according to Google, if sent though other means. Canadian dollar invoices will be rounded to the nearest dollar.



Other

The commissioner is entitled to pick up all original traditional artwork at a convention I am attending (for free) have or have it shipped out to them (for an additional cost). If the commissioner chooses to forgo either option, the original will be available for sale to others online and at conventions.

The commissioner is entitled to the finished physical art or .PNG file art only. I do not normally send out .PSDs or other original files. You can request your original .PSD file for 50% of the cost of your commission, excluding commission types that have proprietary information (such as art deco badges). Layers may be removed to protect proprietary textures and the like. .PSDs are also sometimes available on my Patreons at certain tiers.

These terms are subject to change without notice at any time.